This is the Heroes Spoilers blog for Heroes Season 2, Episode 1, from NBC TV.


** Updated Sept. 17**
The first not so Heroes spoilers are that this episode premieres on September 24, 2007 - four months after the Heroes season 1 finale. The title is descriptive - Four Months Later - picking up the Heroes super-heroes four months after the explosion in the Season 1 finale. As the regulars of this Heroes spoilers blog know ... WARNING: Heroes TV show spoilers ahead ... stop reading now if you do not want to know the future of Heroes TV ... blah ... blah ... blah ...
(Claire the cheerleader's back ... Back for Heroes Season 2)
Claire Heroes Spoilers: As the PR photo shows, Claire the super-healing cheerleader is back for Season 2. Imitating the real life Heroes Claire actress - Hayden Panattiere - we find a matured Claire for season 2 - four months older and ten years wiser, she is somber and introspective -- and happy. The Claire Heroes spoiler is, she has a new boyfriend. And not any old kid, a flying super hero. Just like her bio dad flying Nathan Petrelli. But Claire calls herself Claire Bennett after her adoptive father Noah Bennett aka H.R.G. - horn rimmed glasses. More HRG spoilers to come.

HRG - Noah Bennett Heroes Spoilers: Noah Bennett survived the explosion, had his contract renewed, and returns ever ambiguous for Heroes season 2. Even though we have a name for HRG now, Noah, he'll always be HRG in the hearts of the Heroes spoilers blog. What of Noah? He does re-unite with Claire in Season 2, despite his mind wipe at the hands of the kind of not so mute Haitian mind eraser super-hero.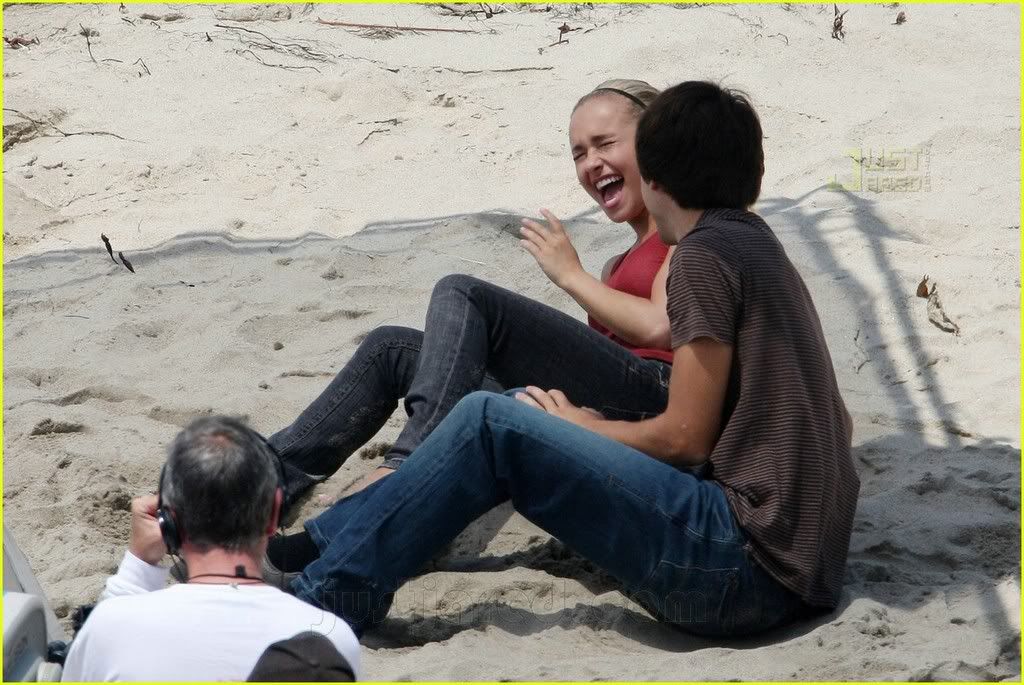 (Teen Love in Hollywood - Fly West-ern)
Hey, wait a minute Heroes spoilers blogger, what about Claire's super-flying boyfriend? :) Ok, that would be romantic West played by teen heart-throb Nick D'Agosto. West is always up for a flying date to the Hollywood sign to gaze at the stars or a roll in the sand at the beach. (Thanks justjared for the photo)
West Heroes Spoilers: The big Heroes spoilers about Claire's West actually are a Heroes spoilers first, a cross-over spoiler. West makes an appearance in episode 3 of Pushing Daisies on ABC, super-Heroes flying power and all. Pushing Daisies is a new series featuring a central character with Linderman-like super-curing super powers - he brings back dead people. More
Pushing Daisies spoilers
and news at a site we like called,
SpoilersNews.com
.
I'll be back.
Sylar Heroes TV spoilers - Sylar is one tough cockroach. When last seen, Sylar seemed to be a cockroach climbing out of the sewer. Indeed he did climb out and straight into a contract renewal making Zachary Quinto a regular Heroes cast member. So, the evil brain-eating Heroes Hero of season 1 returns for Heroes season 2. But is he really alive? The spoilers is, of course we hear ... maybe.
A major season 1 cliffhangers was, why Nathan committed suicide by sweeping in and flying away with his exploding brother Peter Petrelli. The Heroes spoilers for season 2 are, don't believe it. ... Ever ambiguous Nathan lives to hang out with evil mamma Petrelli for more mayhem in Season 2. He swept away good Peter the power sponge, left him in the sky, jetted away, kabooooom the explosion. Peter lived too, but with a new Heroes season 2 haircut. After all, save the cheerleader ... save her healing powers ... save yourself ... and the world!
(Takezo Kensei Samurai Warrior Hero:
Turning Japanese)
Takezo Kensei Heroes Spoilers: One of he biggest spoiler surprises of season 2, episode 1 is Takezo Kensei. The picture is worth 1000 words. Uh... he's far far away from his safe Euro-American home. David Anders, playing the legendary samurai warrior - smaller in real life than legend.
However, the Hiro Heroes Spoilers are, have no fear, a Heroes Hiro hero is here to whip Takezo Kensei into shape so he can fulfill his destiny. Hiro spends much of season 2 (or chapter 2 - Generations as the Heroes creators are calling it) in ancient Japan, discovering himself, discovering a lovely princess, and helping Takezo Kinsei do the same. The big question of season 2, and a blockbuster spoiler in and of itself is, Is the Takezo Kinsei of legend actually past Hiro? Do we know, of course ... not (maybe) :)
(Takezo Kensei Samurai Warrior Hero:
Japanese)
Two Takezo Kensei's - the above from the Heroes season 1, episode 23 season finale - How to Stop an Exploding Man. Chased by the samurai army, this Kensei was saved by the season ending solar eclipse. He also looks remarkably like Sulu aka George Takai aka Mr. Nakamura - Hiro's Dad. Hmmmmm.
NBC TV put out a press release for the opening episode of Season 1, containing some veiled Heroes spoilers, and probably some mis-hints as well:
AS THE EMMY-NOMINATED "HEROES" RETURNS, THE EXTRAORDINARY STRIVE TO BE ORDINARY FOUR MONTHS AFTER THE EXPLOSIVE EVENTS IN NEW YORK, BUT DEADLY NEW THREATS LOOM AS BRAND-NEW INDIVIDUALS WITH ABILITIES EMERGE WORLDWIDE -- WRITTEN BY EXECUTIVE PRODUCER/CREATOR TIM KRING AND DIRECTED BY EXECUTIVE PRODUCER GREG BEEMAN
A series of new Heroes heroes will roll out starting with episode 1 of season 2.
As the second volume of "Heroes" begins, the fates of Peter (Milo Ventimiglia), Nathan (Adrian Pasdar) and Matt (Greg Grunberg) are revealed, following the horrible showdown with Sylar (Zachary Quinto) and Peter's uncontrolled nuclear detonation miles above New York City.
They all live and return. Sylar too, but ambiguously evil for season 2.
As everyone attempts to move on, a new sinister force begins stalking and murdering Heroes.
The Heroes spoilers behind this statement is that Season 2, or more correctly Chapter 2 - the first half of sesaon 2 - reveals a new dark sinister evil Heroes anti-hero. This is the force cute Molly the hero locating kid detected in the Season 1 finale. This character is unfinished business of the older generation - Linderman, Mama Petrelli and all - and it is up left to the younger generation to deal with.
With the family hiding in Southern California, H.R.G. (Jack Coleman) and Claire (Hayden Panettiere) attempt to live as inconspicuously as possible…which proves to be easier said than done. Meanwhile, after landing in feudal Japan, Hiro (Masi Oka) meets his hero Takezo Kensei (David Anders).
Don't count of Claire and H.R.G. leading a normal inconspicuous life.
Twins Maya (Dania Ramirez) and Alejandro Herrera (Shalim Ortiz) hope to make the crossing into the U.S. from Mexico, in hopes of finding help with their deadly abilities.
New characters... I hope this is not another stereotypical TV attempt to tie-in with the immigration issue ... puuulleease NBC Heroes powers!!
Dana Davis, Noah Gray-Cabey, James Kyson Lee, Ali Larter, Sendhil Ramamurthy also star. Nick D'Agosto, Lyndsy Fonseca, Cristine Rose, Barry Shabaka Henley, George Takei, Eriko Tamura and Adair Tishler guest star.
Ali Larter ... of course the Jessica/Nikki dual personality. She's back, but is she still bad... of course.